Please click on any item for price and information.
Music
DVD's
Celebrate this season with Kenny Vance and the Planotones featuring 7 holiday videos Plus: 3 Bonus Videos Click here to see and hear "My Christmas Vow To You."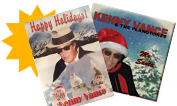 Happy Holidays DVD and Mr. Santa CD Bundle
For one low price, buy both the Happy Holidays DVD and the Mr. Santa CD. Enjoy 10 Videos and 14 songs of Holiday cheer.

Looking For An Echo
Starring Armand Assante
Featuring the music of Kenny Vance and The Planotones
By the director of "Eddie & The Cruisers"

American Hot Wax
Featuring the music of Chuck Berry, Jerry Lee Lewis, Screamin' Jay Hawkins and Kenny Vance and The Planotones.
Click here to see The Planotones performing Rock 'n' Roll Is Here To Stay.